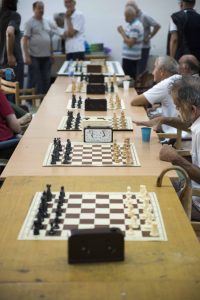 Residential institution for persons with disabilities Dragiša Vitošević from Bežanijska kosa hosted a tournament for chess players with disabilities. The tournament was held on July 26 in partnership with the club Pogledi – a club by and for chess players with disabilities. This year the tournament had a memorial character and it was devoted to two recently deceased members.
25 players, among them one lady, competed in 5 rounds. Winners of the first round proceeded to the second and winners form the second advanced to the third – three hours of focused game and checkmate! A trophy goes to Nenad Stojiljkoivć, a candidate for chess master, while all participants received books – each featuring a prominent chess master.
German-Serbian Development Cooperation project Social Services for Vulnerable Groups supported the purchase of books, thus being part of this highly competitive yet equally so inclusive event.