Within the Project Responsible Waste Food Management, a one-year action of collecting 1,000 tons of food waste was launched in Serbia, with the goal of reducing 750 tons of carbon dioxide emissions.
This is why National Alliance for Local Economic Development (NALED), as one of the project partners, invited all organizations and companies that prepare or serve food on the territory of Belgrade and Novi Sad to give their contribution to this goal, so that all the food waste they produce will handed over for disposal to an authorized waste management system operator, EsoTron, which will dispose of waste in a harmless manner under promotional conditions. NALED stated that they are working with state institutions to regulate the system of proper separation and disposal of this type of waste, because in Serbia a small number of facilities in which food is prepared and served are used services of the operator for the collection of food waste and instead the waste is disposed of in landfills, where its decomposition produces a large amount of harmful gases.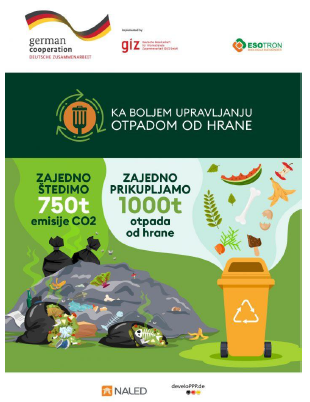 It is reminded that facilities from the catering and retail sector, but also households, are the biggest generators of food waste in Serbia. One of the problems, as pointed out, is the habit of consumers to create excessive stocks of food that are not used in time, so after the expiration date they become unusable for food, while in restaurants, cafes and hotels, better planning of purchases and use of groceries in the preparation of meals is needed.
On a daily basis, these facilities produce an average of about eight kilograms of food waste, which is 40,000 tons per year. "From the catering sector, as much as 99 percent of food waste ends up in landfills, where it produces a huge amount of hazardous gases that pollute the environment. Throwing away food is a big problem even if we keep in mind a problem of hunger that has not yet been eradicated, even in the more developed parts of the world" said Jelena Kiš, president of the Committee for Environmental Protection at NALED. According to her, it is estimated that about 30 percent of households in Serbia are not able to afford meat, fish or their vegetarian substitute for a meal every other day, while the national cuisine uses the eye 35,000 people. Research shows, it is stated, that only 13 percent of catering facilities use the services of operators for collection and proper treatment of food waste.
The project "Responsible Waste Food Management in Serbia" proposes solutions among which the first step is to improve the legal framework in the field of food waste management, which will oblige companies that produce and serve food to properly separate this waste, along with the installation necessary infrastructure, such as bins for separating waste of animal and plant origin, as well as waste disposal in cooperation with the operator. In parallel with these solutions, it is necessary to improve the inspection system so as to ensure consistent application of regulations.
The project is being implemented in cooperation with EsoTron and GIZ within the program of development cooperation with the private sector – develoPPP.de, which is funded by the German Federal Ministry for Economic Cooperation and Development (BMZ).