The GIZ presented the results of its work on the reintegration of returnees in the context of the pandemic within the online conference "RE:Integrate – return and (re)integration: challenges during the COVID-19 pandemic", held on November 17, 2020 and organized by the Global Programme "Migration for Development" (PME).
The conference was introduced by Ms. Darija Kisić Tepavčević, the new Minister of Labour, Employment, Veterans and Social Affairs in the Government of the Republic of Serbia and Dorothea Gieselmann, Deputy Ambassador of the Federal Republic of Germany to Serbia.
The Minister pointed out that the Strategy on Economic Migration for the period 2021 – 2027 regulating the field of economic migration, was adopted in February 2020.
She emphasized that the aim of the Strategy is to create a better economic and social environment to slow down the drain of the working age population, strengthen ties with the diaspora, encourage return and circular migration, but also attract foreign citizens of different educational profiles.
Gieselmann said that research shows how 71% of young people from the Western Balkans leave their countries because they do not have a clear prospect of finding a job. As a reason for leaving, the young often claim lack of opportunities for further education.
Despite the fact that the conditions for the reintegration of returnees are difficult during the pandemic, the PME, in cooperation with partners in institutions at the national and local levels, as well as multiple civil society organizations, provided emergency humanitarian aid to the returnees and to the local population's most vulnerable groups and continued to organize other forms of support for them throughout the year. The German Information Center on Migration, Vocational Education and Career (DIMAK) continued working online during the pandemic and thus provided users with all services unrestrictedly (8900 support measures provided).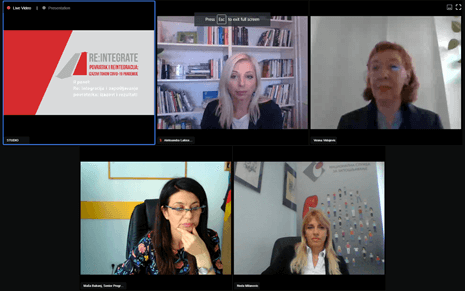 Serbia is one of 13 countries in which the Global Programme "Migration for Development" is being implemented, as part of a broader initiative called "Return to New Opportunities", funded by the German Federal Ministry for Economic Cooperation and Development (BMZ).
Since 2017, more than 100,000 different support measures have been provided, of which more than 12,000 social and economic reintegration measures were destined to returnees from Germany who were facing numerous challenges, from inclusion in the labour market and education system to access to social and health services. Programme partners, the Ministry of Labour, Employment, Veterans and Social Affairs, the National Employment Service (NES) and the Commissariat for Refugees and Migration (KIRS) were provided with assistance in equipment and software for remote work.
Representatives of the NES and KIRS also spoke at two thematic panels. The conference was attended by more than 100 participants, representatives of international organizations, state institutions and civil society organizations.