The partnership between Germany and Serbia has been going on for 22 years and so far, more than two billion euros have been allocated through various development programs, stated Marija Bogdanović on behalf of GIZ, leader of the Global Programs of German Development Cooperation "Migration for Development" and "Migration and Diaspora", at the celebration of the 101st birthday of the National Employment Service.
At the jubilee ceremony, Deutsche Gesellschaft für Internationale Zusammenarbeit (GIZ) GmbH received a certificate of appreciation and recognition as one of the partners of the NES that made the greatest contribution in the field of employment policy in 2022.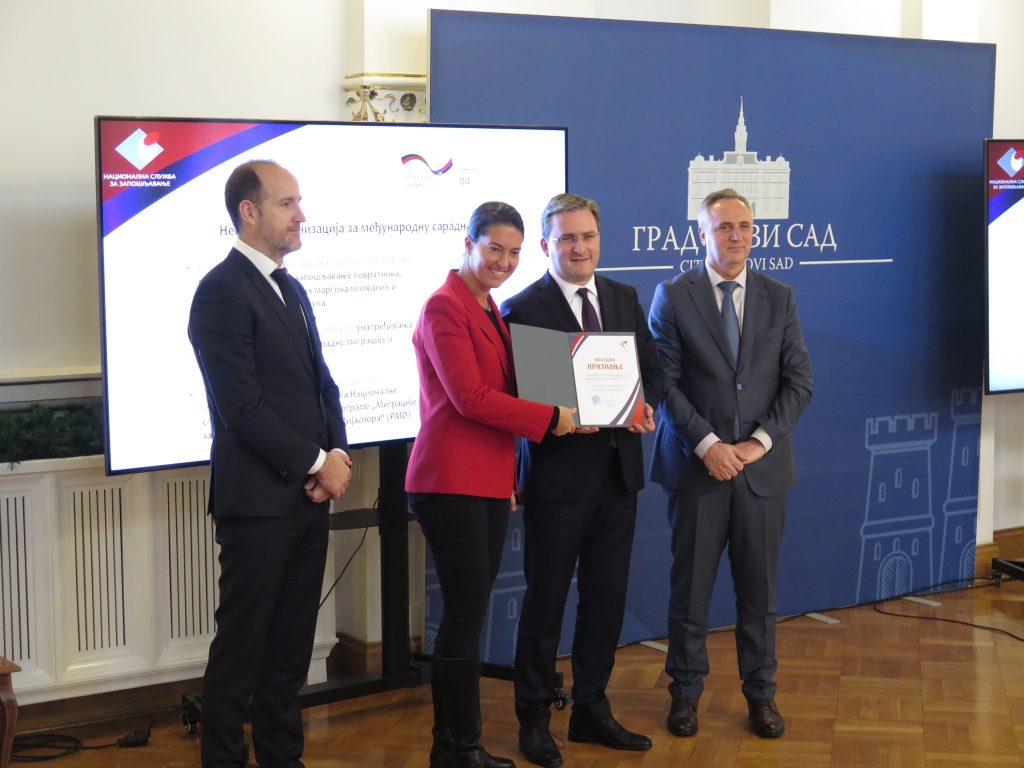 "Serbia's economic growth is the focus of most of our programs. The cooperation of the "Migration for Development" program with the National Service began in 2016, it is getting better every day and we have great results. We will continue to cooperate and provide complete support to the NES", said Bogdanović.
The event, organized in the City Hall in Novi Sad, was attended by the Minister of Labour, Employment, Veterans and Social Affairs, Nikola Selaković, Director of the NES, Zoran Martinović, as well as the Mayor of Novi Sad, Milan Đurić.
The backbone of cooperation between the NES and GIZ is the German Information Center for Migration, Vocational Education and Career (DIMAK), which operates in the offices of the NES and its Migration Service Centers throughout Serbia, and which provides legal and psycho-social assistance to readmission returnees and other vulnerable categories of society as well as assistance with employment and self-employment.
A large part of the digitalization of NES services takes place with the full support of GIZ, such as virtual job fairs and a digital platform for remote training to increase the employability and entrepreneurship of persons from NES records. Over 300,000 euros were invested in these two activities alone.
GIZ also provides continuous support for raising the capacity of the NES itself and Migration Service Centers, in the form of training for employees, as well as support for joining the EURES network of the Migration Service Centers.
In addition to the cooperation with the NES, this year GIZ allocated almost 400,000 euros for local self-governments and the development and implementation of innovative local employment policies. This project is implemented in cooperation with the Ministry of Labour.