One of the largest and most frequently visited green areas in Belgrade – Ušće Park, was enriched with 163 new trees, planted on 22 November by the staff of the German Organization for International Cooperation GIZ, responding to the "DrvozaBG" challenge issued by Mayor of Belgrade Zoran Radojčić.
Ušće Park in Belgrade was lively in the early morning hours of a windy, but sunny 22 November. The workers of the "Zelenilo Beograd" Public Enterprise were already in position at about eight o'clock. Easy to notice with their fluorescent vests, caps and hard hats, wielding shovels, spades and rakes, and backed by the necessary machinery, they were preparing everything needed for the announced planting of trees.
Wrapped in jackets, scarves and caps, with warm sports shoes on their feet, the staff of GIZ Belgrade started arriving at the park around nine-thirty, led by Director Gerhard Sippel. The Mayor of Belgrade Zoran Radojičić soon came to the agreed meeting place, followed a few minutes later 10 by people with cameras and microphones, the representatives of national TV stations and agencies.
"Green areas currently cover 15 percent of Belgrade. Our goal is to increase that number to 25 percent by 2025. To achieve this, we need around two and a half million new trees. Thanks to GIZ, the first to respond to the recently opened "DrvozaBG" challenge,  today we are making an important step towards achieving this goal", the Mayor of Belgrade told the media.
He was immediately followed in front of the cameras by the Director of GIZ.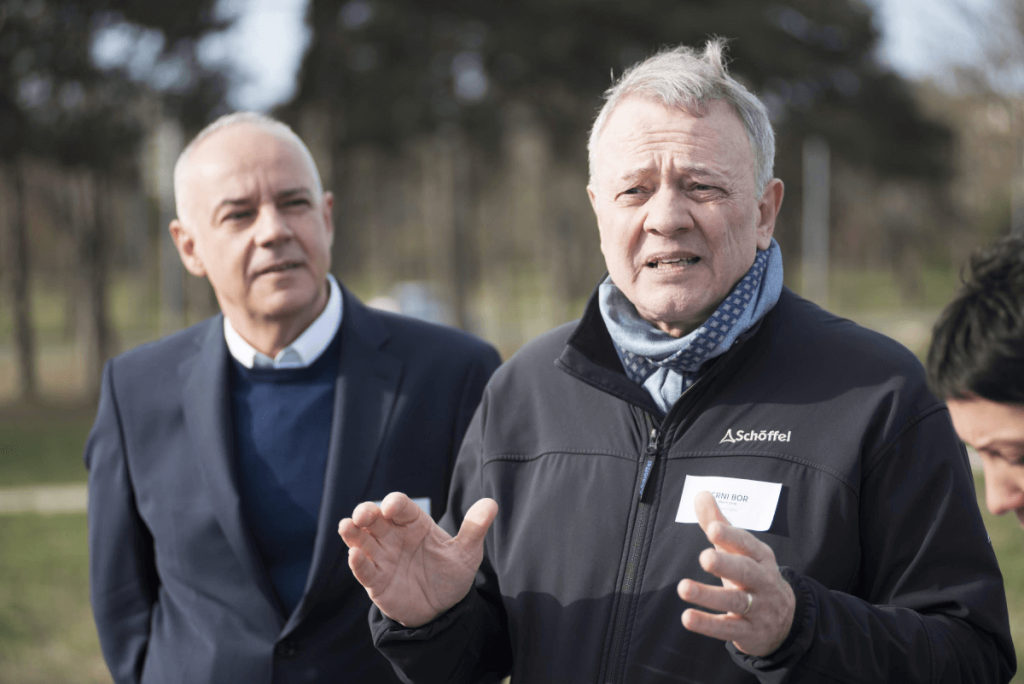 "Most of the projects implemented by GIZ are related precisely to meeting the sustainable development goals, but planting trees is not part of our project activities. The decision made this year to organize planting trees instead of the regular annual staff meeting is a decision made by all GIZ staff, and the result of our desire to contribute in this way to the quality of life in Belgrade, the city we live and work in", said Sippel and used the media presence to call on other international organizations and socially responsible companies to respond to the "DrvozaBG" challenge.
While the cameras were still rolling to record the statement by Slobodan Stanojević, the Director of the "Zelenilo Beograd" Public Enterprise, the staff of GIZ already started their "duties". Each of them had the tools they needed in hand, their lapels bearing a sticker with the name of the species of evergreen or deciduous tree they were planting. Before all this, they received brief instructions on how the activity would unfold from Ana Pribićević Čamernik, Communication and PR Consultant for GIZ, and Nataša Šišaković MA, Executive Director for Operations at the "Zelenilo Beograd" Public Enterprise. "This will be the biggest donor planting I remember, and I have been working at Zelenilo Beograd for a long time", said Šišaković, adding: "Our goal is not to maintain the positive green balance in Belgrade, but to improve it. This GIZ activity contributes to precisely this end, and it makes us very happy."
As the activity began, it became clear how much the staff of GIZ looked forward to this opportunity. Camera flashes were going off on all sides, memorable photos were being made, with people shouting and laughing…
"I have an MSc in environmental science, it has been my life's work, and I have been working on various environmental projects for many years now. I am very happy that GIZ chose an environmental theme to mark the anniversary, and that I had the opportunity to participate in this activity. We have shown through our personal example how responsible and dedicated GIZ is as a company, not only in reducing our environmental footprint, but also through measures that have a positive contribution to the environment and business sustainability", says Zoran Jakovljev, advisor for the project Modernization of Municipal Services, implemented by GIZ under the Open Regional Fund for South-East Europe (ORF).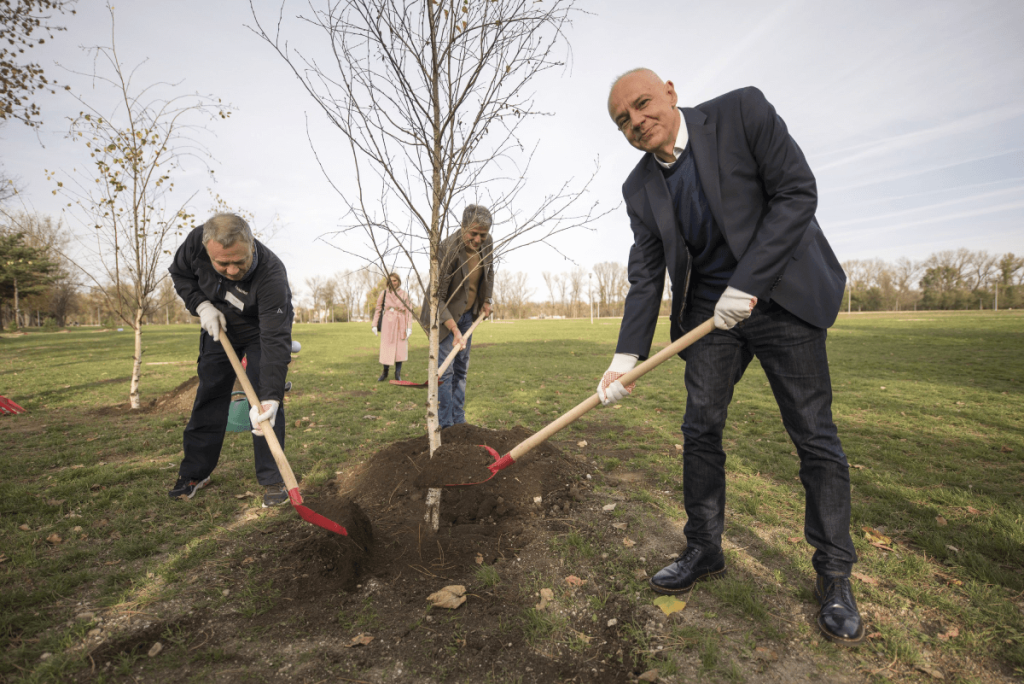 Referring to the environmental footprint, Jakovljev notes the fact that planting trees is just one of GIZ's activities aimed at achieving environmental and social balance in 120 countries worldwide, including Serbia, where it is implementing the programmes of the German Development Cooperation. As a pioneer of corporate sustainability, GIZ has introduced a unique methodology in the operating procedures of their offices worldwide – Corporate Sustainability Handprint®(CHS). This methodology, in addition to the reduction of negative impact and increase of contributions to environmental protection, known as environmental footprint, also allows for calculating the handprint, i.e. the positive contribution made to the environment by GIZ through its work. The "Handprint" method is used by GIZ both in regards to its environmental balance, as well as social openness, gender equality, care for the health of its staff, etc. Following its Sustainability Programme during the period 2015-2017 GIZ offices worldwide contributed to a reduction in CO2 emissions of 36 million tons, equivalent to the CO2 emissions of a city comparable to Berlin.
"We have the very challenging role of CSH representative for Serbia. When this tool was introduced in GIZ in Serbia in 2016, we became truly aware of the impact our project activities have on the environment. We then defined obligations aimed at reducing this impact, through recycling, efficient use of paper and sustainable procurement. Now we are making a step further in combating CO2 emissions and using the opportunity of company team building to plant a tree for each of our staff", says Maša Šašić, Manager for the GIZ project Climate Sensitive Waste Management, adding that she is very proud of this activity.
Most of the staff of GIZ Serbia is familiar with the CSH methodology and very willing to participate in all activities regarding compliance with the GIZ Sustainability Programme 2016-2020. One of the main objectives of the programme is to make GIZ "climate neutral" globally, in regards to CO2 emissions.
"Trees are life, and parks are the lungs of the city. The funds intended for this year's staff meeting are now aimed at something that will be here after us", says Tamara Ilić, Manager for the project Private Sector Development in Serbia. "Projects implemented by GIZ contribute to sustainable development goals, and the so-called green goals are very important among those. However, as we work in offices and travel to meetings, we are leaving an undesirable footprint on the environment. This is one way to mitigate this", adds Tamara.
Experts say that one adult tree processes nearly 22 kilograms of CO2 annually, releasing an amount of oxygen that meets the needs of one person for two years. According to this calculation, the 163 new trees in Ušće Park will provide oxygen for 326 person-years. Since, in addition to processing CO2 and releasing oxygen, trees contribute to improving the micro-climate, reducing extreme temperatures, maintaining the quality of air and ground water, and preserving the life of other plant and animal species living in forests, the value of this activity cannot be measured by that number alone. Furthermore, it is important to add to this the satisfaction of all those participating in this activity, and a fact Director Sippel reminded us of, that GIZ staff will be able to come to the Ušće Park in the future and "recognize their own tree, the one they themselves planted."