With the occasion of the International Day of Migrants, December 18, the GIZ presents the results of its work in the field of migration, in the two programmes the GIZ implements in Serbia, on behalf of the German Government. The Migration for Development Programme, as part of the broader initiative "Returning to New Opportunities", provides direct and concrete support not only to returnees in Serbia, but also to the local population, while the Migration and Diaspora Programme promotes the development aspect of regular migration and cooperation with the diaspora.
From 2017 until today, 107,810 individual support measures have been provided to returnees and the local population, of which 13,185 are social and economic integration support measures for the returnees from Germany.
The German Information Center for Migration, Vocational Education and Career – DIMAK, as the first stop for returnees, but also the local population, managed to quickly adapt to the new circumstances due to the Covid-19 pandemic and achieved continuity in providing reliable information to its target group online and by telephone, and to maintain the trust of its clients in extraordinary circumstances. During 2020 alone, DIMAK provided over 8,900 different support measures to returnees, while DIMAK's regular migration advisors conducted 1,013 consultations. Out of that, 795 consultations have been held since the beginning of the state of emergency and the work of DIMAK in non-standard conditions, supporting also the people in crisis situations about changed conditions of border crossing and entry into Germany, or about the procedure for our citizens who happen to be in Germany at the time of the Covid-19  outbreak and had to extend their stay.
Zagorka Beganović from Knjaževac, a returnee from Germany, after she went through counseling in DIMAK about the possibilities of reintegration, completed the training for a beautician. After three months of training, she was immediately hired as a make-up artist in a local hairdressing and beauty salon.
"I have always wanted to enroll in beauty school, and when I found out about it through DIMAK, I gladly accepted. Now I will not stop, I want to advance and learn something new", said Zagorka, a mother of two, who, upon the reintegration support she received, used the opportunity to improve the quality of living conditions for herself and her family after returning to her home country.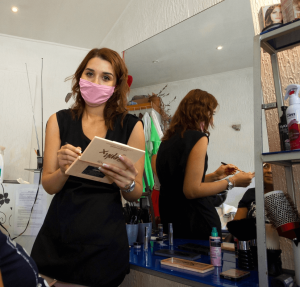 When it comes to support in the employment of returnees in 2020, 100 people, mostly women from vulnerable groups, have successfully completed training for caregivers of the elderly, according to the National Employment Service standards. In this way, 100 qualified persons were created to work with the elderly, of which as many as 50 participants in the training achieved a formal employment contract in private homes for the elderly and therefore got integrated into the labour market. The influx of qualified personnel in this sector is especially significant during the Covid-19 pandemic. In addition to this, more than 150 DIMAK beneficiaries got servicec of career counseling, preparing for job applications and interviews with employers. Furthermore, 186 people were employed in seasonal jobs in agriculture. The launch of a training and employment programme for truck drivers – one of the most in-demand jobs on the labour market – is underway, while the offer of trainings for other high-demand jobs is being expanded, as well as support programmes for parents and children at risk of early drop-out of school available in 5 cities, business mentoring for micro and small businesses for recovery and sustainability in the Covid-19 crisis.
Eight highly qualified young people from the diaspora also found opportunities on the domestic labour market in 2020. With the support of the GIZ in connecting with employers, identifying job positions, training and an addition to the local salary, they decided to share their knowledge and skills acquired in Germany with their peers at Serbian universities and other public institutions. One of them, Dr. Marko Panić, a molecular biologist and company owner, returned to Serbia to work at the Faculty of Biology in Belgrade. When the corona virus began to spread around the world, his company, in partnership with the Mihajlo Pupin Institute, produced a prototype mechanical ventilator that could be used as a component in urgently needed Serbian-made respirators.
"Belgrade is great – both for my academic career and my newly established biotechnology company," Dr. Panić conveys his impressions. His business partner, Tomislav Radišić, says for Marko that as a businessman and researcher, he is a role model for others who want to start a business in Serbia.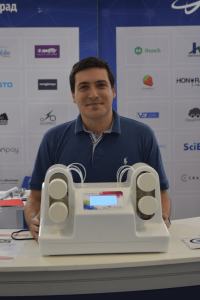 Another way of including the diaspora as an invaluable Serbian resource is the Business Ideas for Development project, intended for people of Serbian origin living in Germany, interested in starting a business in Serbia. "As part of this project, after the tender procedure, seven candidates were selected whose work we will monitor for the next 15 months in order to support them to successfully start their businesses," explains Snežana Antonijević, project manager in the Migration and Diaspora Programme. The selected ideas that will be translated into business plans, with the financial and other support of the German Development Cooperation, are related to medical tourism, HR services for small and medium enterprises with no capacity for own HR department, internet platforms for better visibility of the green sector in the Balkans, and many other.
Dr. med. Stefan I. Stefanović, from the University Hospital in Mannheim, is one of the diaspora experts who will establish a company in Serbia with the support of the GIZ. "We want to create a platform for the mobility of doctors and patients, from which both Serbian patients and doctors and German patients will benefit equally. We want to enable Serbian patients to be treated by German experts in their own country or to receive a so-called second opinion according to German standards. Doctors, practices and clinics from Serbia should achieve greater international visibility through our platform and establish themselves as institutions in international medicine on the fast-growing online market, "explained Dr. Stefanović.
Whether it be international, seasonal or internal migration, the GIZ reminds of the need for understanding and support for all population, that, in search of a better life for itself and its family, migrates and undertakes the road with many challenges. Even though migration enriches migrants' experiences insofar that, as they acquire new skills they learn about different systems and gain international contacts, it implies having to adapt to a new environment due to economic, language and cultural differences, and often from the point of view of environmental or gender equality awareness in the destination country. Therefore, migrants need the support of both national and international institutions and organizations.