After five years of living in Germany, 35-year old Maria came back to Serbia with her family because their request for asylum had been denied. It was difficult for her to adjust to new conditions she was living in because she didn't have any friends and didn't know about any support system in Serbia she could rely on. She was feeling depressed and worried because she and her husband were unemployed, with three children to feed. Then, an acquaintance informed her about the Drop in Center for Human Rights in Belgrade, a hub for the returnees and other vulnerable groups that offers them different kinds of social services, including psychological and legal advice.
"Psychological counselor in Drop in Center really helped me adapt to new life circumstances and deal with my problems and worries in a proper way. It means so much to me just to have somebody to talk to, someone who can help me without judging", Maria explained.  As her mental health was improving, she was feeling able to start seeking constructive solutions for her situation. "I also participated in several workshops organized in Drop in Center and I received a lot of useful information about social services available for unemployed women and families with no income. Thanks to this information my husband and I applied and received financial help from local Center for social welfare. I am really grateful to Drop in Center and I will continue to come whenever I can", she added.
Returnees such as Maria and her family are only one of the marginalized social groups that frequently use the services of the Drop in Center. The Center designed its activities with the intention to offer a safe gathering place to vulnerable groups such as Roma and LGBT population, but also youth, women, people with disabilities and many more. Its services include psychological, medical, legal and peer counseling, as well as educational and creative workshops, lectures on various topics such as human rights, antidiscrimination, prevention of STD and HIV, rights on social and health care services, and distribution of condoms and lubricants.
Established in 2009 in Niš, Serbia's third largest city, with the support of GIZ project SoRi the Center spread its services in smaller cities, such as Aleksinac, Leskovac, Pirot and Bujanovac, as well as in Serbia's capital, Belgrade. It also managed to extend its portfolio of services and increase visibility and sustainability through publicity activities and local and regional partnerships. The biggest success, however, was scaling up the outreach staff and activities to cover additional cities and offer better targeted service.
The outreach staff is perhaps the most important asset of the Drop in Center. Well trained to work with vulnerable groups, they are dedicated to establishing trust in the Center among the users of social services. They also facilitate connection between vulnerable communities and social care institutions.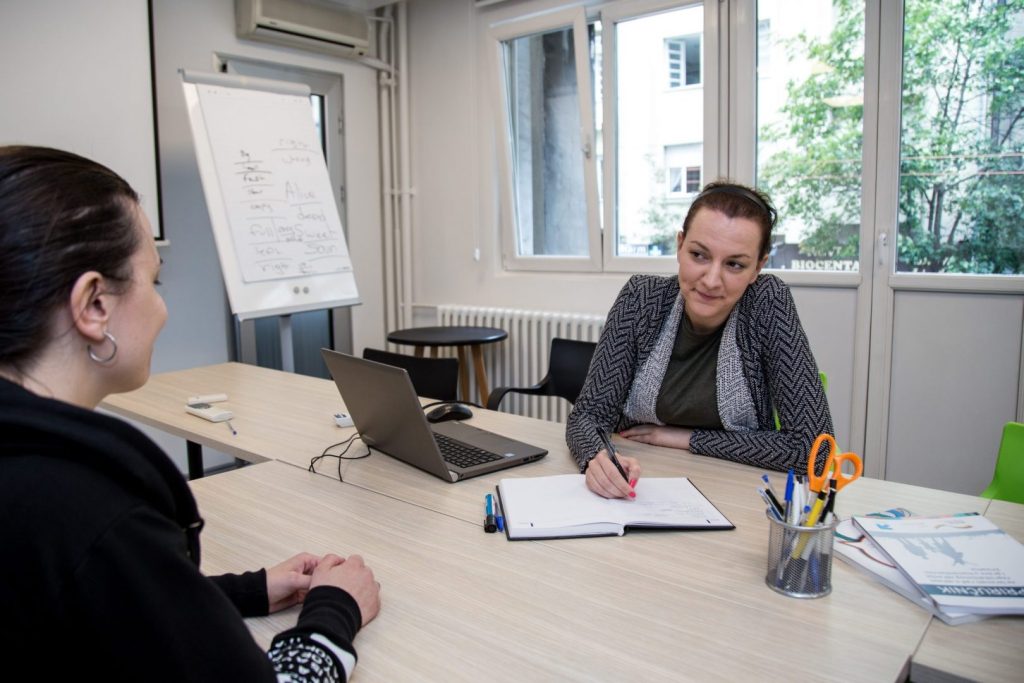 Milica has been working for Drop in Center for Human Rights as a legal counselor for over a year. She finds her job dynamic and interesting, considering the number of beneficiaries and diversity of groups she works with.
"Members of vulnerable social group are in high demand of legal advice – we give approximately 130 to 150 legal services or advice a month. Not just the fact that these services are free here, but also the fact that Drop in Center is friendly place where beneficiaries can come at any time, for any reason – if just to hang out, warm up, or use the internet, makes it very visited", Milica concludes.
---
The GIZ Regional Project on Social Rights for Vulnerable Groups commissioned by the Federal Ministry for Economic Cooperation and Development (BMZ) aims at improving the conditions needed to ensure equal social rights, including the right to non-discrimination, of vulnerable groups. Key stakeholders such as centers for social work, local administrations and non-governmental organizations are supported in selected municipalities. The project is implemented in five countries in the Western Balkans: Albania, Bosnia and Herzegovina, Kosovo, Macedonia and Serbia.
Contact person: Mr. Michael Samec