Serbian Deputy Prime Minister Prof. Dr. Zorana Mihajlović signed today with the German Organization for International Cooperation – GIZ Implementation Agreement "Inclusion of Roma and other marginalized groups in the Republic of Serbia", worth 10 million euros.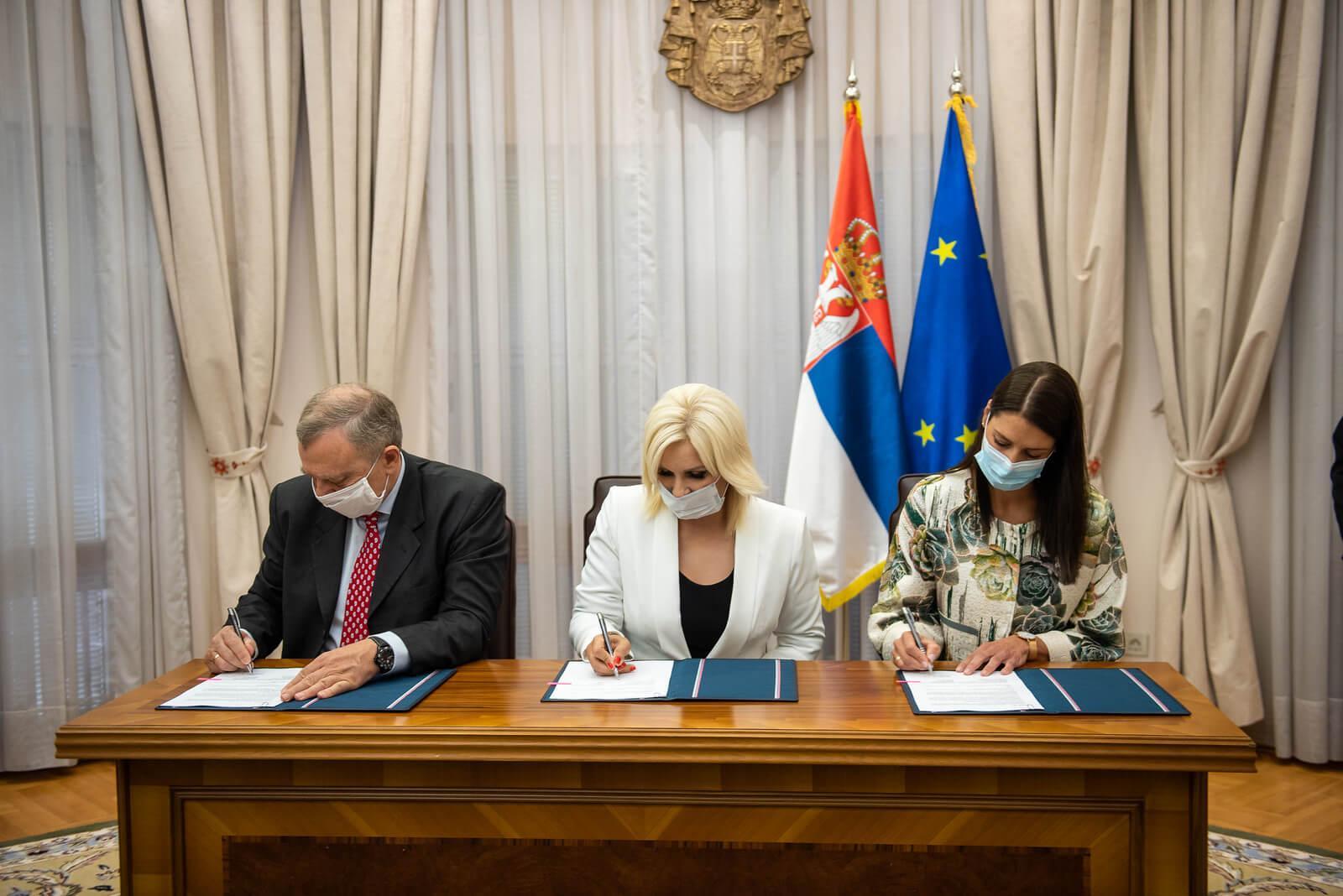 Mihajlovic, who chairs the Government's Coordination Body for Monitoring the Implementation of the Strategy for Social Inclusion of Roma in Serbia, pointed out that it is important to create conditions for members of the Roma community for a sustainable and quality lifestyle. "Through the work we do together, we fight to have as few prejudices and stereotypes as possible. Officially, there are about two percent of Roma men and women in Serbia, but in fact there are many more. And what I insist on is that each of us understands that there are no first- and second-class citizens in our country. We are implementing this through the Strategy, action plans and projects we are working on with international partners and local governments," she said.
The Deputy Prime Minister thanked GIZ for the successful cooperation and support in the previous years of joint work. The agreement was also signed by Gerhard Sippel, director of GIZ in Serbia, and Aleksandra Dimić Ugrinaj, project leader of the project. Gerhard Sippel said that the cooperation in the four years he has been at the helm of GIZ in Serbia has become increasingly important because it has grown from 11 million euros to 25 million euros a year. "Funds are not only from Germany, but also from the EC and the Swiss government. All these agreements are crucial because they are a roadmap for the implementation of the program. I thank you for the opportunity to work together with the Serbian government on project implementation," Sippel said.
Aleksandra Dimić Ugrinaj stated that the project will be implemented in 18 cities and municipalities in Serbia. "Through the project, we will support the strengthening of the structures of the Coordination Body, as well as the improvement of the monitoring system. Trainings will be implemented, with the aim of reducing stereotypes and prejudices towards the Roma population. Our goal is to include the Roma community in society. It is a young population and represents an important potential for the economic development of Serbia. "she said.
The German development cooperation project "Inclusion of Roma and other marginalized groups in the Republic of Serbia" is implemented by GIZ in Serbia.