The enhanced Entrepreneurship Portal presenting all available support programmes, important news and networking opportunities, has recently been made available to Serbian entrepreneurs. The Startup Portal is the place to go in case they wish to use all opportunities offered in the changing and dynamic startup ecosystem.
The development of these platforms was enabled by the German Federal Ministry for Economic Cooperation and Development (BMZ) via the German-Serbian Initiative for Sustainable Growth and Employment, in cooperation with the Ministry of Economy, Prime Minister Office, local and international partners.
The Entrepreneurship Portal was designed as a guide to assist the micro, small and medium-sized enterprises to access finance, training, mentoring, and advisory services aimed at business improvement, export support and new employment. This comprehensive database includes the 'Small Business Newsletter' interactive section, providing answers to the most important questions about the legal framework applicable to businesses (taxes, fees, e-commerce, employment of staff, etc.). Registration in this database allows its users to access a range of educational resources, but also to ask questions or make proposals to facilitate their business operation.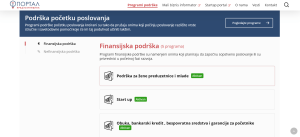 "Instead of searching for information on individual websites of competent ministries and agencies, entrepreneurs are now able to access all relevant information at a single URL/location. The underpinning part of the portal is the support programmes' database that is easily searchable depending on the business development stage, whereas the interactive map allows them to easily locate the support organisations closest to them. The portal features 17 accredited regional development agencies, four science and technology parks and a large number of business incubators and startup hubs", Katarina Obradović Jovanović, Assistant Minister in the Ministry of Economy, said.
The Startup Portal was developed with the idea to empower the established startups and encourage new ones, given that this community has different needs compared to small and medium-sized enterprises.
Designed as a central point for networking, informing and educating startups in all stages of development, this portal provides an overview of available financing programmes and support organisations, ranging from hubs to science and technology parks. It also encompasses a comprehensive knowledge base offering answers to many administrative questions, relevant not only for starting a business but also for their management and investments into startups.
"The Startup Portal was developed together with the people from the Digital Serbia Initiative, based on the information obtained from representatives of the startup community. Now in a single place, they can find specific explanations, key steps and solutions to major challenges they are faced with. In addition, we have analysed all relevant procedures with a team of legal experts and explained them in simple terms on the portal", Tamara Ilić, Coordinator at the German-Serbian Initiative for Sustainable Growth and Employment, said.
Both portals will continue to be developed and improved as efficient info centers for businesses with the purpose to contribute to the development of entrepreneurship and strengthen the competitiveness of micro, small and medium-sized enterprises.